Scraper Special Tractors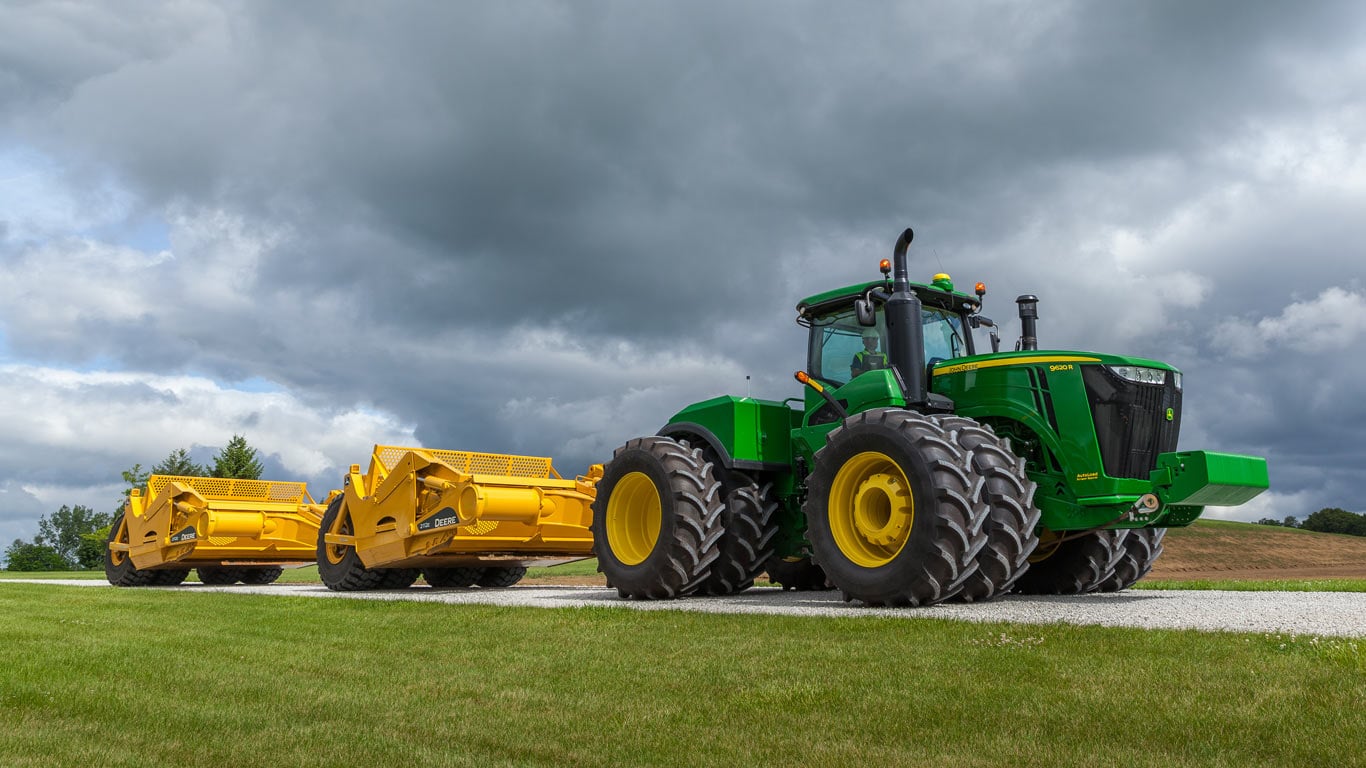 Move More with less effort and a similar investment
Scraper Special Tractors Product Lineup
Model
Engine HP
Wheel/Track
Transmission Options
Cabs
Suspension
Hydraulics

e18™ 18-Speed PowerShift 25 mph (40 kph);
18F, 6R with Efficiency Manager™

Closed-center, pressure/flow compensated
with 4 standard SCVs (6 optional)

e18™ 18-Speed PowerShift 25 mph (40 kph);
18F, 6R with Efficiency Manager™

Closed-center, pressure/flow compensated
with 4 standard SCVs (6 optional)

e18™ 18-Speed PowerShift 25 mph (40 kph);
18F, 6R with Efficiency Manager™

Closed-center, pressure/ flow compensated
with 4 standard SCVs (6 available)

e18™ 18-Speed PowerShift 25 mph (40 kph);
18F, 6R with Efficiency Manager™

Closed-center, pressure/flow compensated
with 4 standard SCVs (6 optional)

e18™ 18-Speed PowerShift 25 mph (40 kph);
18F, 6R with Efficiency Manager™

Closed-center, pressure/flow compensated
with 4standard SCVs (6 optional)

e18™ 18-Speed PowerShift 25 mph (40 kph);
18F, 6R with Efficiency Manager™

Closed-center, pressure/flow compensated
with 4 standard SCVs (6 available)

e18™ 18-Speed PowerShift 25 mph (40 kph);
18F, 6R with Efficiency Manager™

Closed-center, pressure/flow compensated
with 4standard SCVs (6 optional)

e18™ 18-Speed PowerShift 25 mph (40 kph);
18F, 6R with Efficiency Manager™

Closed-center, pressure/flow compensated
with 4 standard SCVs (6 optional)

e18™ 18-Speed PowerShift 25 mph (40 kph);
18F, 6R with Efficiency Manager™

Closed-center, pressure/flow compensated
with 4 standard SCVs (6 available)

e18™ 18-Speed PowerShift 25 mph (40kph);
18F, 6R with Efficiency Manager™

Closed-center, pressure/flow compensated
with 4 standard SCVs (6 optional)
The Right Balance of power and Efficiency
The 9R/9RT Scraper-Special Tractors are built with the PowerTech PSX 13.5 L Engine, delivering uncompromised performance and reduced emissions with just one fluid – diesel.
Efficiency Manager™
Your fuel savings will start adding up thanks to Efficiency Manager. This advanced feature automatically adjusts and matches the performance of the engine and transmission to maintain ground speed with the lowest RPMs to save fuel.
Fall-object Protection
The falling-object protective structure allows the 9R/9RT Series to be used on job sites requiring this equipment, such as when working in rocky areas.
JDLink™ Information-management System
With JDLink™, your tractor will send you regular updates via the web and your cell phone with information on how and where it's operating so you can better manage your operation, your machines, and your costs.
Made for the Way You Work
The 9R/9RT Scraper Special Tractors are loaded with features to help you be more productive and more efficient.
9RT Scraper-Special Track Tractors
9RT Scraper-Special Track Tractors are the right choice for sandy and soft conditions. Extra-tough scraper-version track belts are constructed with an internal heavy-duty cable for improved resistance to puncture plus improved lateral belt strength.
High-flow Hydraulics
High-performance scraper operations require increased hydraulic flow – and John Deere delivers. Our high-flow system features ¾-inch couplers that connect and disconnect under pressure and have a breakaway feature if problems arise.
Axle Flats
Integrated axle flats on 120-mm axles improve wheel attachment and reduce maintenance
Product Information & Support